Temporal-Mandibular Dysfunction & Headache
December 17, 2018
9:00 AM to 3:00 PM
6 CEUs
$99
Thoracic Outlet Syndrome
December 17, 2018
4:00 PM to 10:00 PM
6 CEUs
$99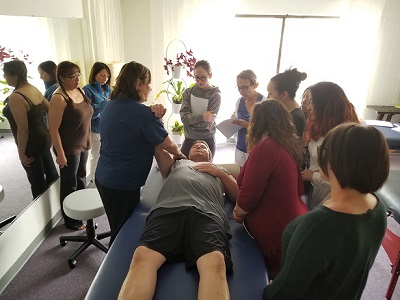 Awake n Networks
1055 Moana Lane suite 202
Reno, NV 89509
10 AM to 2 PM
Client retention is important to any massage practice.
Advantages to LIVE Learning
The Expert is in the room for Supervised Training
Instant answers to questions and concerns
Multimedia, 3 Dimensional Experience creates vivid memory
Instant feedback on your work
Connect with your colleagues
Opportunity to feel the work for yourself
What you will learn
Understanding the Etiology and Symptoms of the each dysfunction

Understanding the different pathologies of the neck, head, & shoulder

Understanding the possible treatments that exceed the scope of practice for manual therapists.

Recognizing the most common nerve impingement sites in the cervical spine and the typical referral patterns they produce.

Proper order of techniques to insure optimum results.

How to isolate a joint and proper joint mobilizations within the parameters of the natural ranges of the joint.
How These Techniques Enrich Your Practice
Proficiency and Certification in Hand Massage, in particular:
Create an opportunity for you to market your advanced skill set to professionals that rely on movement or have jobs that restrict their movement. Serve clients whose livelihoods and careers either depend on healthy joints, as well as, clients who develop dysfunctions due to the static nature of their careers.

Construction and Mechanics
Food Service Industry
Salon, spa, & body workers
Caregivers
Computer operators
And many more
Advantages to becoming a Voss Approach Seminar student:
Preferred pricing on any future seminar
Student rates for massage therapy services
Repeat any previous class for 50%
Earn FREE tuition by referring your colleagues
What the class includes:
Table set-up, no need to bring your own table.
Syllabus and lesson plan
CD-ROM of text including all power point slides
All tools required for training
Official Transcripts
Certificate of Completion

Presented at end of seminar for pre-paid students
Class sizes are limited, so reserve your space today.
Call or text: 775-560-5625
E-mail: vossceus4u@gmail.com
View us on Facebook: Facebook.com/vossapproachseminars